Kim Jong-un Pays 'Economic Visit' to Chinese Border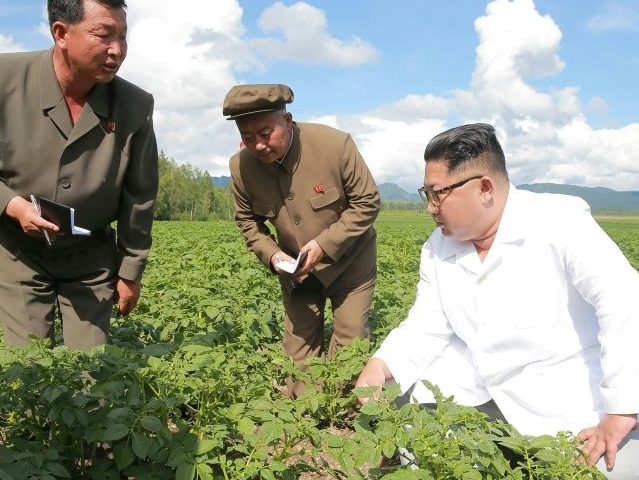 North Korean media reported on Tuesday that dictator Kim Jong-un paid a visit to Samjiyon County on the Chinese border, where he dispensed "field guidance" to the local agriculture and tourism industries.
His sage advice included telling architects to build houses that do not fall off the side of Mount Paektu and telling factory workers to "ensure the quality of processed potato foods in production and thus raise the quality of potato production."
South Korean legislator Won Hye-young told the South China Morning Post (SCMP) Kim's trip to the border was part of his regime's shift away from militarism to an "economy-first policy," a signal that North Korea expects to be back in business soon after sanctions are lifted, and a token of confidence in North Korea's relationship with China. The intended audience included foreign investors thinking about putting some capital into post-sanctions North Korea.
"After all, Pyongyang must attract foreign capital to speed up its economic development," Won pointed out.
The SCMP also floated the possibility that Kim wanted to signal optimism and trust in China in a way that would rattle U.S. negotiators. Won thought it unlikely that the trade war brewing between America and China would have a significant effect on denuclearization talks, which remain "fundamentally" a conversation between the U.S. and North Korea.
President Trump suggested on Monday that China might be trying to sabotage nuclear negotiations with North Korea. The Chinese government insisted it remains fully committed to denuclearizing the Korean peninsula.
Kim Jong-un has been keeping a low profile for the past week. Korea Joongang Daily (KJD) reports Kim's visit to Samjiyon was the first mention of his activities by North Korena media in eight days:
The leader's whereabouts had been a mystery, especially after he did not appear at last week's inter-Korean basketball friendlies or during U.S. Secretary of State Mike Pompeo's visit to Pyongyang for high-level meetings.

South Korean media expected Kim to appear for at least one of the four basketball games North Korea played with the South because he was the one who initially floated the idea on April 27 during his first summit with South Korean President Moon Jae-in.

Kim Yong-chol, vice chairman of the North Korean Workers' Party's Central Committee, told South Korea's Unification Minister Cho Myoung-gyon, who led the South Korean basketball delegation, last Thursday morning that Kim Jong-un might not be able to attend the games because he was in the suburbs for a so-called "field guidance."
KJD further notes that North Korean reports on Tuesday did not mention exactly when Kim made his trip to the border. Since the media usually wait at least a day to file reports on his actions for security reasons, the best guess is that he made the trip over the weekend.
In addition to agriculture, Chinese tourism, and a few manufacturing plants, Samjiyon is famed for its place in North Korean mythology as the birthplace of national founder Kim Jong-il, the current tyrant's father. Kim is known to visit the area for contemplation before making major decisions, hailing it as a "sacred land of the revolution" and a "fairyland of communism."
AFP suggests Kim might have traveled to Samjiyon to snub visiting U.S. Secretary of State Mike Pompeo, who was supposed to meet with him in Pyongyang. Canceling a meeting with the Secretary of State in order to travel 400 miles and tell farmers to grow more potatoes would be a pretty good snub.
Original Source
| CryptoCurrency | USD | Change 1h | Change 24h | Change 7d |
| --- | --- | --- | --- | --- |
| Bitcoin | 41,768 | 0.10 % | 0.78 % | 2.36 % |
| Ethereum | 3,110.5 | 0.07 % | 2.22 % | 4.19 % |
| Tether | 1.000 | 0.17 % | 0.06 % | 0.15 % |
| Binance Coin | 464.18 | 0.04 % | 1.46 % | 0.16 % |
| Cardano | 1.440 | 0.93 % | 8.47 % | 21.36 % |
| USD Coin | 1.000 | 0.16 % | 0.07 % | 0.09 % |
| Solana | 138.82 | 0.23 % | 0.09 % | 1.03 % |
| XRP | 0.7436 | 0.54 % | 1.44 % | 3.77 % |
| Terra | 78.34 | 0.78 % | 2.28 % | 6.39 % |
| Polkadot | 24.68 | 0.07 % | 2.53 % | 3.39 % |
| Dogecoin | 0.1661 | 0.01 % | 1.67 % | 8.08 % |
| Avalanche | 84.91 | 0.02 % | 1.59 % | 5.22 % |
| Shiba Inu | 0.00002787 | 0.08 % | 3.17 % | 0.61 % |
| Polygon | 2.080 | 0.08 % | 5.13 % | 11.58 % |
| Binance USD | 1.000 | 0.05 % | 0.08 % | 0.00 % |
| Crypto.com Coin | 0.4419 | 0.19 % | 0.70 % | 3.84 % |
| Wrapped Bitcoin | 41,758 | 0.11 % | 0.77 % | 2.49 % |
| Near | 17.71 | 0.80 % | 0.59 % | 2.12 % |
| TerraUSD | 1.000 | 0.15 % | 0.09 % | 0.02 % |
| Cosmos | 37.06 | 0.72 % | 3.17 % | 4.65 % |